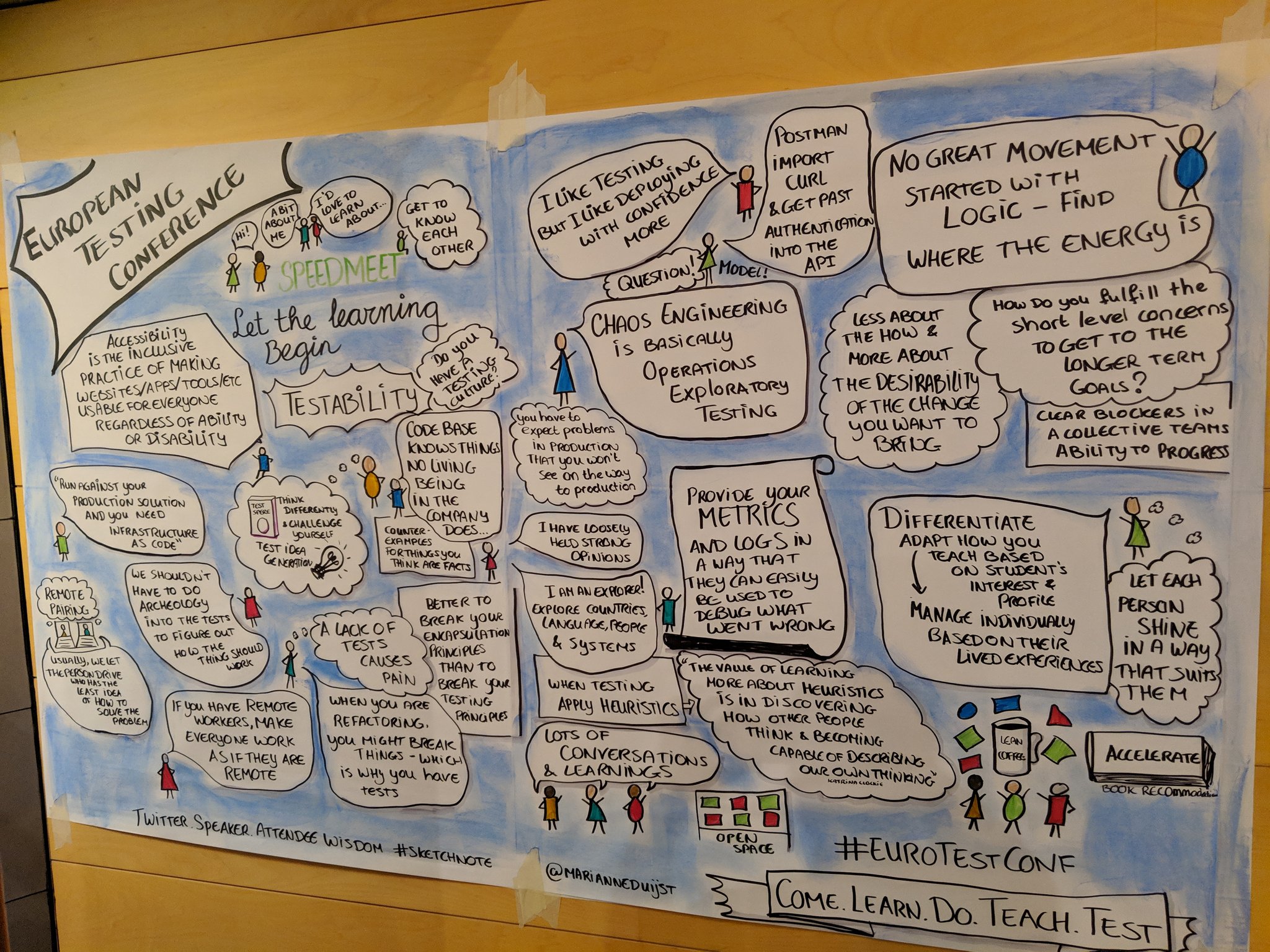 Sketch by Marianne Duijst
So, after going to sleep somewhere around 01:30, I woke up for a completely new conference day, and I even got almost 6 hours of sleep, which is quite good for a conference night.
I met with
Mor
for breakfast and we headed to the conference venue. Today's opening keynote was
Dr. Sal Freundenberg
's story on getting back to working as a coder after a long time of doing other things, and to make things more interesting, she was doing that while ticking some checkboxes that make hiring harder even without such a break – being older, female, and autistic.
What I liked in this keynote was how she took action to her own hands and took conscious steps to get her goal – Older (and experienced)? That means there are friends she could pair with to brush off the rust and reacquaint with the current tools & trends. Problem with bright lights, big crowds and loud noises? Find a place that works remotely and customize the workspace (I really liked the fidget things on the table). All in all, it showed that getting back after a long pause is possible, and at least by the way it was told – there can be a lot of fun in doing so.
Then it was time for the workshops – I chose to participate in
Anne-Marie Charrett
's workshop about exploring an API. Right at the beginning I was informed that the focus of this workshop would be the opposite of what I hoped for and would be an introduction to restful APIs and show how they can be explored, rather than to assume familiarity with APIs and systematically exploring one. I decided to stay, since even in this case I could still see some of Anne-Marie's ideas of exploration and use them to learn. I wasn't disappointed – we started by modeling the application under test (found in
http://automationintesting.online
) we then started questioning the model and using the software to get some answers. We missed a bit of the instructions and started only to form the questions, but it was valuable nonetheless.
After the workshop I went to
Clare Sudbury
's talk about how not having unit tests for a game she was creating for herself came back to bite her in the rear and how she used pairing to keep herself honest and avoid costly shortcuts. I really wish I could convey the feeling she projected in the room and pass it on to everyone who thinks unit tests are a waste of time, since the dry facts don't do this story any justice at all. The
animated GIFs
were a nice addition.
I stayed in the same room in order to listen to the next talk: "playing port authority", which was about "unit testing" your docker configuration files. From all of the events I attended, this is the only one I was disappointed with, probably due to having wrong expectations – This talk was about a specific tool, written in Ruby. While this tool does seem to provide some nice shortcuts, it does not really do anything revolutionary or even interesting, and I say that as a person who is completely unfamiliar with Docker beyond the basic concept. Those tests are long (makes sense, since the setup is "deploy a container, installed whatever is needed") and all the tool is doing is to wrap Docker API in order to provide some verification. If I ever face the need to test containers in such manner and I happen to be working in a language other than Ruby, I'll probably go and write my own wrapper around it instead of adding another language to the soup. Things that would have made this talk better for me would have been answers to questions such as "Why would I want to perform such verification instead of checking it once and run faster checks on the docker yaml file? When it is appropriate to use? When it isn't? What concepts make this specific tool better than what's out there? What would I have to implement myself if I am not using Ruby? When is it appropriate to run such tests? What sort of infrastructure is required to gain benefit from such tests?
As it was, it's been "just another tool" talk, and I am less connected to such talks.
But, no worry – after a short coffee break came the time for open space, which I have never seen go wrong. This time was different only in one thing – I managed to avoid suggesting a session myself. There were so many other sessions that were interesting. Since my coding fingers were tingling, I participated in
Maaret
's session on exploring with unit tests where we used
Emily Bach
's
Gilded Rose Kata
as our target. It was interesting and I think I got a thing or two about using unit tests from it. I then moved to a discussion about contributing to open source projects, and seeing that I don't add or gain value there I invoked the rule of 2 feet and moved to the middle of a session by
Jessica Davis
about "tips for the new tester", the session was briefly hijacked in order to help another tester with about a year of experience to set up expectations and prepare for
onboarding a senior tester to the team. After the session has dispersed we continued to chat a bit around this and I provided whatever opinions I had (which, as those reading here probably know, are not very intelligent, but sometimes sounds convincing).
After the open space time-slot has ended, it was time for the closing keynote. This time –
Ash Coleman
's Story of being a minority in tech. I cannot stress enough the importance of this talk, which speaks, as you might have guessed, about diversity and inclusion. Most of the time it's easy to dismiss diversity issues with a plethora of excuses (those are the people we find, or those are the only who are staying, or anything else. But in fact, the reasons behind such excuses are that that place probably has some unconscious ways of excluding people different than the mainstream. It might be assigning value to irrelevant properties ("His salary is higher because he has a degree from a top-college" is an example – if people are doing the same kind of work with the same skills, it really shouldn't matter where did they get those skills). My main takeaway from that was that difficulties that are common for an underrepresented group are usually ignored, misunderstood or dismissed by people of the dominant group, thus prolonging the inequality. I went to ask Ash later what can I do to mitigate this blindness, and her answer was to find in my environment someone I can trust who is part of such underrepresented group and ask them to tell me when I'm missing something, mirror to me my behavior or ask explicitly for my help in cases where I'm not seeing the need for such. I'm keeping this advice with me.
That's it. The conference was done. Now it was time to say thank you and goodbye to a lot of people. I helped clean the auditorium (a fun part of that was to peel
Marianne's sketches
from the walls and roll them up). Somewhere around that time I Asked Maaret about that peer workshop she mentioned during the open space and asked if I can squeeze in (The answer was yes, for which I'm grateful). After that I took a short while to rest in my room and joined a large group of people (including a few who were not at the conference but came to participate in the peer workshop) in a bar somewhere in the city center. We chatted a bit, had some fun and some drinks, then went to another place to eat.
Dinner was great – a whole lot of people that I wish I could spend some more time with. I don't remember how we started speaking about languages, but we were all thrilled to learn that the same word ("rahat") is used in Finnish to indicate money and in Romanian it means "poop" (There was a story about a parking tickets machine that asked for money, but i don't recall the exact term or it's translation from Romanian to English, maybe "Loud poop" or something like that). By the end of the evening I found myself with
Lisi
,
Kristine
& Jessica who told us how she got around to be in this conference (and her way into testing, as well). Kind of a cool story, I think.
Back at the hotel, some people were still at the lobby. I got to listen to
Marit
,
Sarah
,
Franzi
and Clare talk about difficulties in the work place that males do not experience.
An important reminder to any male readers – The fact that you are allowed to listen to such a conversation is not an invitation to sound your own opinions. It might be ok to ask a question here and there, but generally the right thing to do is to STFU and listen. Who knows, you might learn something new. I, for example, learned about the concept of a sponsor in a workplace and why is it important.
Then – sleep before the peer workshop starts, and more on this - in a later post.