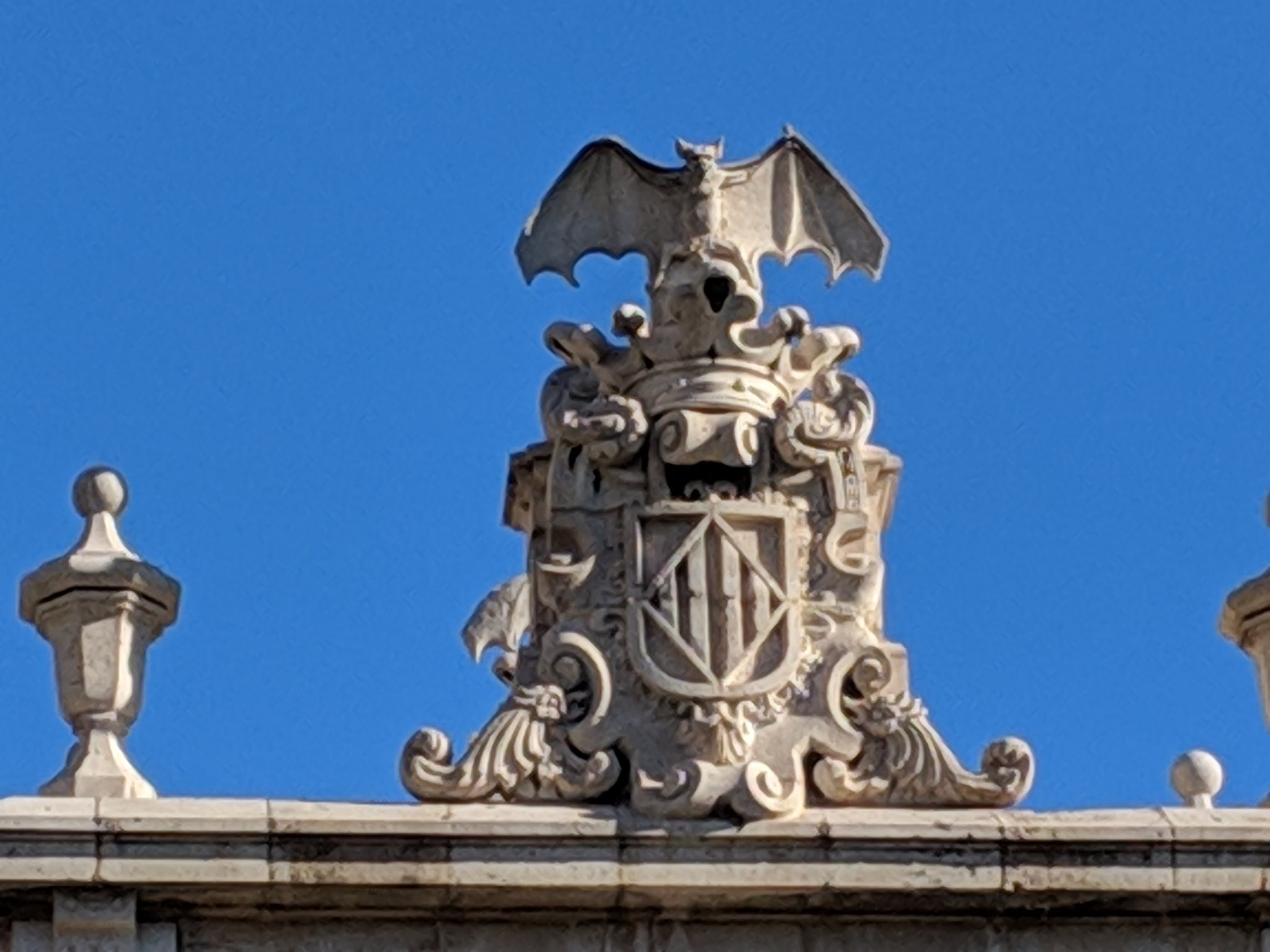 So, it's ETC time of the year again, this time in Valencia.
As usual, I took a couple of days to get to know the area and do some touristy stuff.
I got here by Monday evening, dropped my bags at the hotel and went for a short tour around to get a feeling of direction and of the environment. One thing I've noticed here is that people around here don't English well. Or, in fact, almost at all - The little time I've spent using Duolingo was sort of paying off when I could tell people "I'm sorry, I don't speak Spanish" (Or, in the short version: "Excuse me, English?")
Anyway, I found something to eat and went to sleep a while.
Tuesday was when my plan actually started. When travelling I always have the same plan: Walk until My feet fall off, and then some.
I started with a walking tour, which gives me both the opportunity to walk around a bit and to make a quick checklist of interesting things. For example, one thing I've learned is that a bat and a dragon are, essentially, the same thing. At least in Heraldry, both signify protection, and since it is easier to draw a bat in a frontal position (or maybe, because when you draw a dragon in that position it looks very much like a bat) then the two of those are kinda merged, and one can see how over time a front facing dragon will turn to be a bat. So, if you ever wondered why does Valencia have a bat as part of it's shield - now you know.
Another thing I got from the trip is a recommendation to try a local drink called "horchata", with the warning that either you like it, or you really don't. Apparently, I really don't. The other beverage that was mentioned, which is an alcoholic one, is "agua de Valencia" (Valencia's water) which is a nice cocktail that has the important property of not tasting like strong alcohol.
After the tour I wandered a bit more, found a place where I could buy a charger for my computer to replace the one I forgot back at home (Well, almost, my laptop is a monster requires 170W and the strongest they had was 120W, which is enough to keep my computer from draining and charge it while it's off) and then I went to climb the stairs of Micalet, a bell-tower with a nice view of the city roofs. Micalet which is Valencian (A language that is still taught at schools in the region) for "little Michael" (I think that in Spanish it's "El Miguelte"). The bell itself is little in the same sense that little John is - It's a heavy metallic monster, the biggest in the area.
After climbing those 207 narrow stairs, and then down, I relaxed a bit by going to the ceramic museum - Some nice things in exhibition, but I was hoping for some more detailed explanations or a coherent story or something. Still, a nice place to be in.
Dinner, then sleep.
Wednesday I started by walking through the park from my hotel in city center to the Science museum near the beach. It's a nice park, and the walk was a leisurely paced stroll of ~30 minutes, so I enjoyed it a lot. The science museum was rather nice, even if some exhibitions were being disassembled. I went out feeling that it's a nice start, but can be a bit more. As I was already there, I took a trip to the oceanografic -Basically, an aquarium. I made a mistake and assumed that since it was partnering with several projects aimed for ocean preservation it won't be one of those aquariums that is essentially a zoo - holding many marine species out of their context (there's a nice one in Vancouver where they treat animal and try to restore as many as possible to nature). Visiting there didn't seem like it was doing anything like that, so in retrospective I should have checked more thoroughly. It also can be that I got a false impression, so if you care about those things and consider going to the Oceanografic, do your research better than I did.
After the visit I strolled towards the beach, where I stumbled upon Lisa Crispin who introduced me to the rest of the gang that was hanging out there. I ended up walking back to the hotel with
Kristine
and we had an adventure trying to figure out the city-bike rental scheme. We didn't manage to do that and settled on a bus, but it was a lot of fun nonetheless. Naturally, we didn't go straight back to the hotel, but stopped to meet a bunch of people for dinner. So, in a manner of speaking, the conference has begun.
So, Happy ETC to everyone!