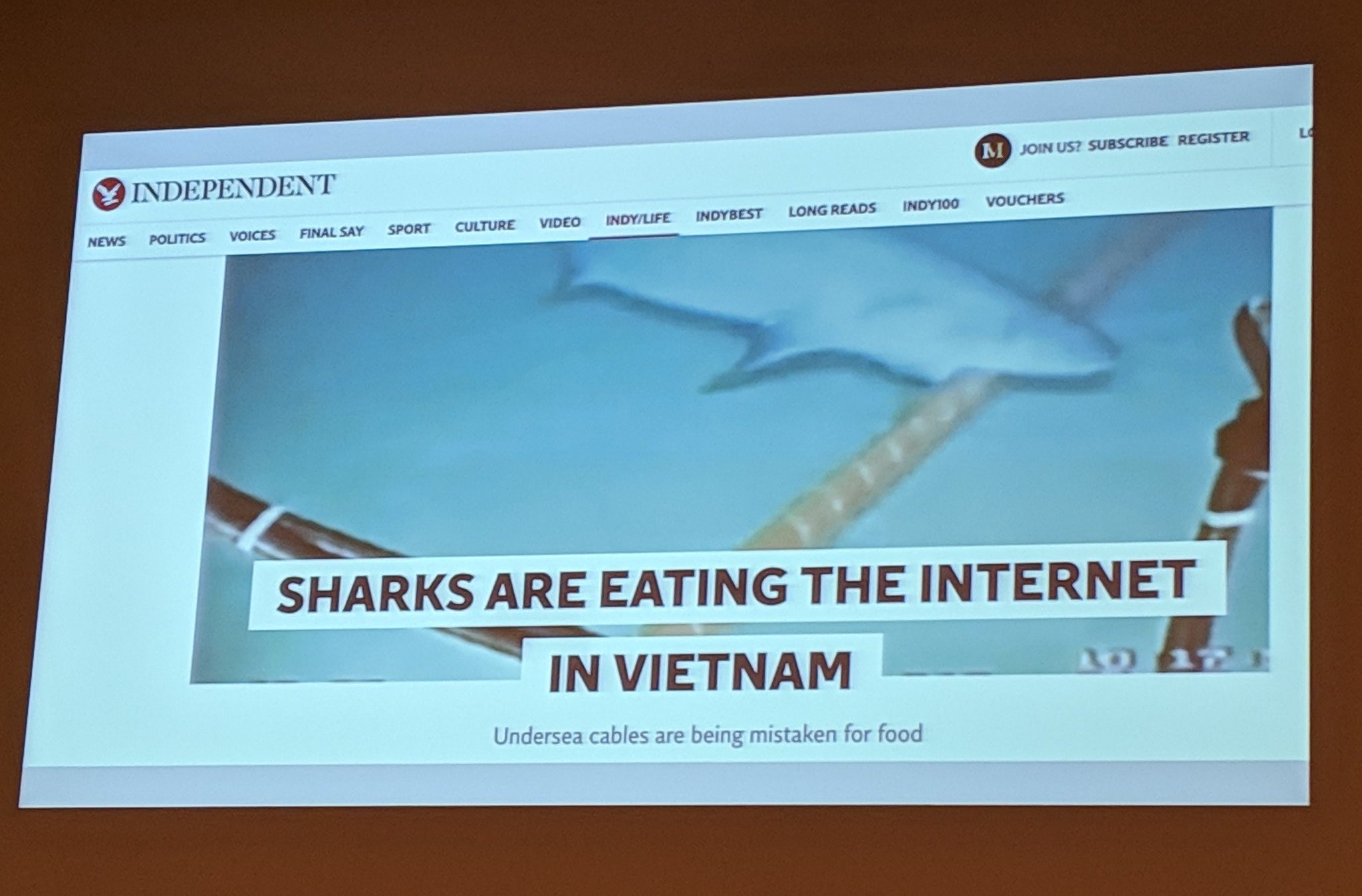 Source: Sarah J. Wells keynote slides
So,
European Testing Conference 2019
is officially done, and what a blast it was.
There's so much that went on, so I'll start with a short summary - I got to meet and connect with great people - some of which I've met before, others I met for the first time. Selecting which content I wanted to listen to was harder than ever as the talks topics was superb and I got out with a few insights from both official content and just talking to people. If you weren't there - your loss, and you should remedy this next year.
A tiny tip for conferences - if you can, stay at the conference hotel (Sometimes it's official, in other times it's just the hotel closest to to conference) as it will enable you to have a little bit more time to connect with people over breakfast. I started my first morning with a short chat with
Alina Ionescu
, which apart from being a pretty cool person in and of herself is also part of the team that created ETC (and if my memory serves me well, has been doing this in the past 4 years as well). We didn't have a lot of time to chat because mornings are hard, and she had to go and organise some last things at the conference venue, but it was still a pleasurable start of the day.
I took a bit longer and got in time for registration, managed to say hi to some familiar faces and went to listen to the opening keynote by
Angie Jones
. Angie's talk has been quite different from my expectations, in a very good way. The talk was a story of a challenge that was just too much to overcome and the problem remained unsolved. The full talk
will be online
somewhere in the (I hope near) future, but I took from it a couple of things:
First of all, it was a reminder that culture is stronger than any single person, no matter how talented or creative they are. Second, there isn't yet any constructive way of speaking about testability - what it is and how to approach it. As for now, the best attempt I've seen is the
10 Ps model
(There's probably a better link somewhere, I didn't find one) which is a great way to expand many aspect of it, but still very abstract in nature. All in all, it was a thought provoking keynote. Just the right way to kick-off a conference.
We then moved to the second building - the venue was, sadly, split in a manner that required getting out to the street to get from one part to the other. Normally I would assume that this is a major setback that will interfere with connecting people, but the organising team proved once again that when's there a will, there's a way, and I didn't see any such effects. In fact, their choice to leave the central auditorium empty during regular session time provided a very nice place to sit and speak with someone when we needed some quiet from the crowd. Anyway, back to the session. I went to a talk about contract testing for a microservice environment. It was a very good talk for me, since it dealt with a problem-space close to me, and presented an intricate implementation of an idea that I need to investigate a bit further. I'm not sure I understood exactly how is the mechanism works and where exactly it it beneficial to apply contract testing, but every talk that leaves me with some homework to do is a good one.
Then - running back for speed meet. This format is tough, and I like that the organisers still experiment with it. On one hand, it's a great way to create some new familiar faces and break the ice in a safe environment. On the other, it's very loud and crowded, easily creating sensory overload and easily draining a lot of energy from introverts and ambiverts. This has made the announcement at the beginning ("If at any time you feel you want to leave, just do so") very important. I liked the standing-up setup we had this year - no more fussing with chairs, and the acoustics of the hall made it a bit less noisy than last year, even though there were more attendees (I think). There are still things I think we can improve - Slowing down and providing a bit more than a minute is one thing I might consider - meeting 20 new faces in quick succession is great, but that can be a lot, and one minute is very difficult to manage. Second, I wonder about the mind maps - it's just too easy to hide behind them instead of having a short conversation, perhaps a more condensed format (such as "three words related to you") will be more effective in creating some face-to-face conversation and not face-to-paper one. Still, despite everything, the main goal is clearly working - after the speed meet there are a lot of new familiar faces, and the choice to make it just before lunch is nothing short of genius, to allow people to continue conversations in a more relaxed situation.
I skipped the next track of sessions - and instead sat to speak with Kristine about SpeakEasy (I ended up agreeing to help two new mentees, which is rather cool). Then we moved again to lean coffee - my favorite activity by far - and then the closing keynote for that day.
Sarah J. Welles
told a fascinating story about the challenges and insights we face when working in a fast-releasing environment. For instance, did you know that some sharks really like the taste of the Vietnamese internet cables? This talk, like other CD tales I've heard in the past, left me thinking about what can be taken from those systems to a higher risk, slightly higher regulated environment and what would be the stepping stones in the way. Slow & big releases are painful.
A closing keynote means end of the day, right? Not in ETC. There was a conference party\dinner\something going on. There was food, there were people, there was time to chat and process. I got to speak with new people and had time to speak with some friends as well. Somehow it just happened that I found myself so immersed in a conversation that I didn't notice there were closing the venue, When we did notice that we simply moved to speak in a nearby tapas bar - it was not that we were hungry, but rather just wanted to continue talking. By 23:00 we decided that the smart thing to do would actually be to go to sleep. So we went to our hotels.
Well, remember what I've said about using the conference hotel to extend the conference? I saw some people sitting in the lobby and thought "I can say hi for a couple of minutes".
90 minutes later we called it a night and went to sleep.
This ended my first ETC day - fully packed and positively exhausting.